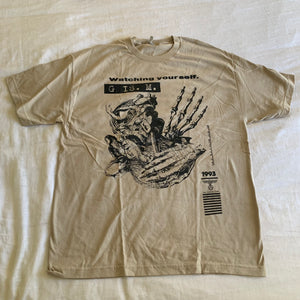 GISM "watching yourself" XL
GISM "watching yourself" light brown shirt on Alstyle brand. Size XL. 
Not sure if this is a Relapse shirt or one from Beast Arts tbh. I know Relapse makes shirts on Alstyle, but if it's a Beast Arts pressing then it's rare because they didn't sell them to anyone outside of Japan. Why dont you find out for yourself.
This shirt  appears to have never been worn and washed, no holes. 
THIS SHIRT IS FROM THE PERSONAL COLLECTION OF HECTOR FLORES
READ CAREFULLY:
NO RETURNS, NO EXCHANGES. NO MEASUREMENTS. SOLD AS IS.
HECTOR FOREVER
---
We Also Recommend