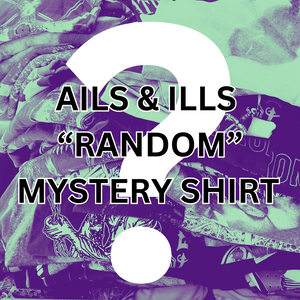 Ails & Ills "Random" Mystery Shirt
 We still have two huge boxes of A&I old stock, and a friend gave us the idea to offer a "mystery shirt" sale to help sort through them. Everyone knew that Hector loved to make very limited amounts of weird colorways of shirts. Many of those shirts are in here.
There's a bunch of shirts that don't fit into any other category really. Some examples-Coil, GISM (two of these long sleeves are on Gildan sorry), NON, Burzum, Swans, ZOUO, Septic Death, Throbbing Gristle

All are printed on Comfort Colors.
NO RETURNS OR EXCHANGES. All sales final.
Ails & Ills Forever
---
We Also Recommend