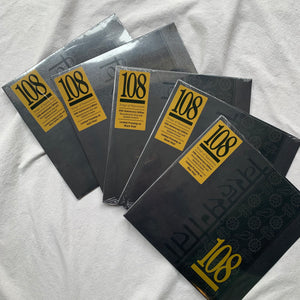 108 "Songs Of Separation" 12"
108 "Songs Of Separation" 12" 2019 reissue
we have-
2 copies on Black vinyl, 108 pressed
1 copy on blue vinyl and 1 copy on gold vinyl, unknown how many pressed but Discogs says they were only available at the NYC shows. Probably 108 of each pressed TBH
1 copy on gold/black splatter, 108 pressed
all copies are unopened.
FAQ about these 108/benefit record sales-
These are from a private collection, we are just selling them on this store and donating all of the money to One Hundred For Haiti
We do not have any other sizes. Do not ask.
We will not be printing more. Do not ask.
If you'd like more information about One Hundred For Haiti, or to donate directly, please visit the website

 

HERE
---
We Also Recommend